Is Thinking of Real Estate As a Seasonal Market Useful Anymore?
Any specific answer to this question depends on who's doing the asking, but the general answer is, not as seasonal as it used to be. The front range is a complicated market with constant changes, keeping things interesting for
Heather and Sean.
To best answer, the frequently asked question "Should we wait," let's focus on just one area: Evergreen. And I'll keep my commentary focused on only three segments.
We can call the first segment, with prices of $500,000 and less, our "Hot" market. These properties seemingly evaporate immediately once they hit the market.
We will refer to the $600,000 -$800,000 segment as our "Average" market because well, statistically, it is.
For our high end, I like $1,500,000 to $3,500,000 for obvious reasons, but also because that's where this pricing segment begins to behave statistically differently.
The separation of these three price points is useful, because when we try to view them all together without any differentiation at all, the data resembles a mid-year glob, reinforcing the slightly antiquated and lazy May-to-August pattern, and hiding a variety of important insights. The truth gets lost and the message becomes pessimistic and just not very helpful or accurate.


We Service Many Price Points & Markets
This issue is important to Heather Graham and me because we service many price points and markets year-round, seeking to understand all of them so we may best serve our clients. All addresses and all price points have both challenges and advantages. In order for us to perform at the high level, our clients have come to expect, we believe the best way to understand these factors is to examine the conditions that enable them.
I would be remiss if I did not point out that today, we're discussing residential properties to the exclusion of land, income, or Investment properties. We are happy to lend our expertise to discussions regarding these other segments, so please don't hesitate to call us at
303-895-4663
, or
720-201-4187
. We love to talk shop.
After a decade of selling real estate in the highly specialized markets of Evergreen, Conifer, Genesee, Golden, and Morrison, Colorado, I have come to the conclusion that the conventional wisdom regarding local real estate practices run contrary to our results when it comes to seasonal considerations. In researching for this article I am seeking to understand why Heather's and my personal expectations have been a bit out of sync with that of some of our peers.
For example, the fourth quarter has traditionally been our most productive quarter. This also seems to be true for most (not all) of the top producers serving our area, while the warmer months seem to be more popular for the typical local Real Estate talent. We understand. What Realtor does not love selling property in the Spring and Summer, with the awe-inspiring promise of rebirth and rejuvenation, warming sun, and real estate signs safe from the danger of snowplows?
But Spring & Summer Are Only Half the Story Up Here
Census data tells us that while Evergreen has a rare combination of top-rated schools and an active lifestyle, less than 23% of households in Evergreen have school-age children, and a highly mitigating percentage of their moves stay within the district.

My Sotheby's contemporaries in Texas tell me that sales slow there during their brutal Summer months and pick up in the Winter. This is important knowledge about one of our largest feeder markets, but Texas markets are well behind mid-western areas like Chicago, with its brutally long and cold winter months when it comes to sending people to the Colorado foothills. This population shows up in force and truly appreciates our climate all year round, but especially our relatively mild and pleasant winters. These other markets could start to explain why our experience with the local fourth-quarter real estate market has been so productive.

In Today's Market, "Hot," Is an Understatement
Inventory of Properties Listed for Sale
Inventory has been relatively steady around these levels in recent weeks.

Our hot $500,000 and lower market segment was the first to recover from the great recession, aided by investors absorbing as much of the "have-to-sells" as they could, as fast as they could. For the most part, the remainder consisted of pent-up demand and discretionary sellers, as inventory burned off quickly. Lately, however, the demand has caused such appreciation that appraisers are challenged to keep up with the new values.
The current average days on market have been under two weeks, making the word "hot" to describe this segment seem like an understatement. This price point starts to take off in mid-February, and performs quietly and steadily under the radar until April, because of the effect of attrition on still low inventories.
By April our Hot Market is at a pretty good sprint, lasting until the end of August when availability is again challenged. Even though the winter this effect is measurable, with sales volume dropping by two-thirds.
The notable issue here is that inventory drops faster than sales, creating a shortage. This shortage creates a seasonal log jam because sellers have no place to move to. This seems to affect the Hot Market more than the other segments.
When looking at the graph, one might ask "How much of a contributing factor is Inventory?" My answer is that it is a substantial factor, and was a major issue, as our Evergreen inventory actually dropped to fewer than fifty homes for sale early last spring. The start of 2016 was painful for this segment, then the annual log jam broke.
Average Market is Thriving
Just a few years ago, our market's median price stood at about $675,000. Today, it is closer to $869,000 as our market continues to thrive. This number vacillates considerably as we progress through the year in a seasonal pattern, but it is showing signs of stabilizing. In order to differentiate and follow this segment, the range of $600,000 to $800,000 works well to allow us to talk about an Average Market. Our Average Market typically starts to hit its stride in May, before tapering off in September, although in 2015 we saw this segment continue to perform well through November.

This pattern seems to be trending. For example, the Winter sales volume lows of the Average Market segment were not as severe as the drop-off in the Hot Market this season. This pattern is showing strong and optimistic signs of resilience, as the duration and depth of the slower season become more forgiving year after year.


Median Price
Despite this week's up tic, the market seems to have paused around this plateau. The Market Action Index is a good leading indicator for the durability of this shift.

In other words, winter is not nearly as worrisome for this market as it once was. We really like to see this and hope the pattern continues to improve. Stability and steady growth are more promising for a sustainable increase in property values, especially when compared to the difficult to sustain, double-digit growth that can create dangerous conditions that lead to housing market bubbles.
Historic Sales By Year: $600,000 – $800,000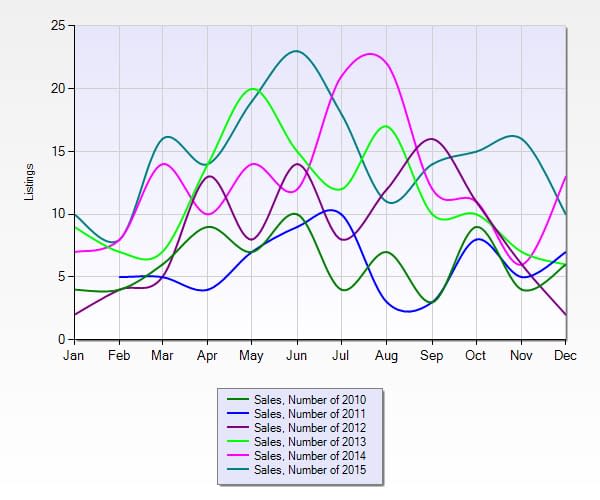 Positive Signals in the Luxury Market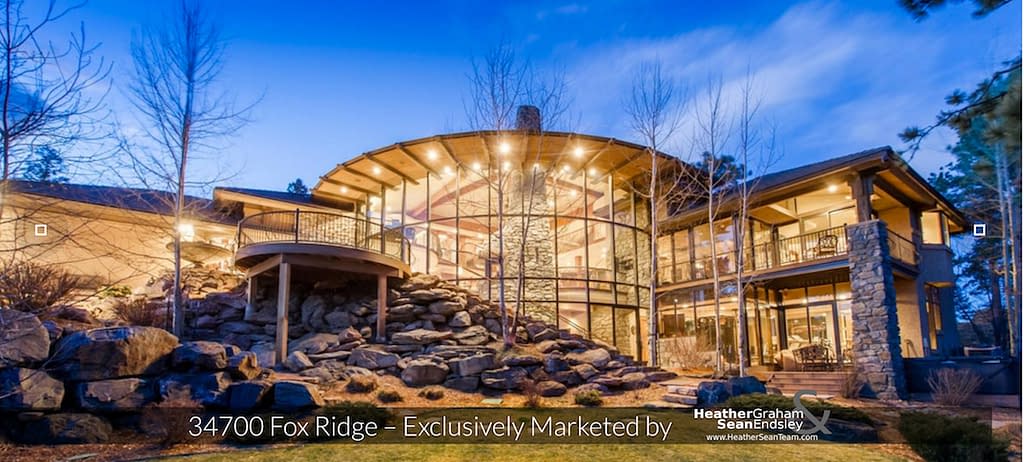 To best measure our Luxury Market, let's start at $1,500,000 and measure up to $3,500,000. This price point represents the most recent market segment to recover from the great recession. But like every good Cinderella Story, its arrival is dramatic. This unique segment of our market is if anything even less seasonal than the others. It's also changing so fast that it's a little tough to get a good read on it right now.
The numbers for 2016 are not all in yet, of course, but anecdotal information from our pipeline along with reports from other top producers indicates that another strong fourth quarter is on the horizon.
The first three quarters of 2016 are what we can see from here, and we like what we see so far. As with most election years, the fear of a slowdown in the luxury housing market has been present, but contrary to these fears, the potential speed bump was smaller than anticipated. In terms of sales volume, the number sold for the high-end segment has increased by 20% for 2016 when compared to this same point in 2015. And 2015 enjoyed 20% more sales than 2014 for the same months measured. In short, we are very excited to see what happens when the election year fog clears.
A Glance of Insight
A glance of insight into why this market is a late-year performer may be derived from an informal interview process performed by my partner Heather and myself. In August of 2015, Heather and I had six properties under contract, ranging in price from $980,000 to $1,850,000. All six properties closed successfully. All of these properties were our listings, and all had buyers from out of state. When we asked the buyers or their agents "why did you purchase now?" five of the six reported that they were freed up from their real estate commitments by other buyers who were moving ahead of the school year's commencement.

We identified this as a sort of "shadow market," that appears to have accounted for at least part of the 4th quarter surge in 2014 as well. Another insight we can share from experience as longtime occupiers of this workspace is that these buyers tend to be more discretionary and will take a long, long time to pull the trigger.

And remember those feeder markets we were talking about earlier? About 70% of these buyers are from out of state. Of those out-of-state buyers, approximately 30% came from Chicago. We don't believe this is indicative of a second home market. We are still a primary home market, functioning as a bedroom community to Denver for most of this segment.

More Reasons to Love the 4th Quarter
There are a few other reasons we love the fourth quarter. While sales volume does slow to some degree, inventory drops fast enough to actually improve the outcome for many sellers, depending on their location and price point. This effect is measurable enough to cause us to advise some listings to hold off on competing until local inventory is reduced.

Of course, life marches on, and so do job transfers, graduations, marriages, deaths, and divorces each one of these life circumstances contributing to demand. Life circumstance buyers tend not to be the tire kickers discretionary buyers can sometimes be. In fact, we've found that while showings sometimes slow down during the 4th quarter, and these homes can sometimes hang out on the market a bit longer, the exposure can be much more potent, with fewer showings required to get to the sale.

Even our marketing seems to be much more effective as our competition follows the bears into hibernation.

In short, there is no room in the fourth quarter to ease up. We are still up and at it, bright and early in the morning, with our wool real-estate socks on. And why wouldn't we? We love our area and chosen professions.

The idea of a sales season and a pessimistic season for our area is quite frankly becoming dated. Our market is growing and remains quite active throughout the year. Should low inventories in Denver continue to push out of area Realtors up the hill in search of lifestyle and liveability, this data becomes even more important, as our local talent is the front line of defense against perception. Real Estate is local, and so are the best experts.